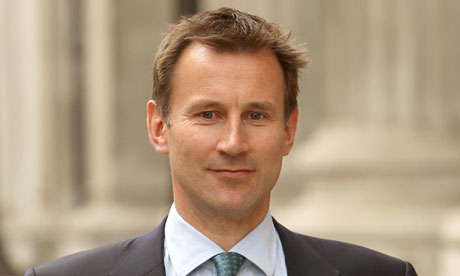 Here's an afternoon summary.
• The Leveson inquiry has been told that Jeremy Hunt drafted a memo for David Cameron in late 2010 saying it would be "totally wrong" to give in to those opposing News Corporation's bid for BSkyB. The document was written about a month before Hunt took responsibility for the bid and, in it, Hunt said: "If we block [the bid] our media sector will suffer for years." Robert Jay, the inquiry counsel, read out extracts from the memo as Adam Smith, Hunt's former special adviser was giving evidence. Smith revealed that he had had no contact with those opposed to the bid, even though he had been in regular contact with News Corp about it. Hunt's aides have been playing down the significance of the memo, pointing out that in it he said - as he always had done - that plurality issues would have to be addressed for the bid to be allowed.
There are more details on our Leveson live blog.
http://www.guardian.co.uk/politics/blog/2012/may/24/adam-smith-fred-michel-leveson-live-blog#block-26